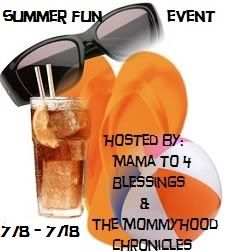 Thank you for stopping by The Summer Fun Giveaway Event, hosted by Mama to 4 Blessings and Mommyhood Chronicles! This event will take place from July 8th at 12:01am EST to July 18th at 11:59pm EST. For this event we will be celebrating summer! Which means each participating blogger will be offer summer related giveaways $15.00 and up! After entering my fantstic giveaway be sure to visit each blog from the linky below the Rafflecopter and enter for your chance to win some really amazing prizes!
The one staple in my summer wardrobe has to be flip flops. Every year, I get a few to fit my style and match certain outfits. They are comfortable, light and easy to get on as you're running out of the door. I was so excited for the opportunity to review a pair of Havaiana's Flip Flops.
The first thing I loved about these, was that I personalized them myself. I chose the bottom color, the strap color and even added some bling with the pins in the straps. I went with a pink bottom with a brown strap with a diamond pin in each flip flop.
The next thing I love about Havaianas is the quality of the flip flop. It's soft bottom provides comfort all day long. And I can attest to this. I've wore these things through all day trips to the zoo, carnivals and festivals. They are still just as comfortable and sassy looking as the day I received them in the mail.
Havaianas have been making quality shoes since 1962 and have survived longer than any other copy cat on the market. They are known for their quality as the straps don't stretch or break. They originated in Brazil but have expanded to the United States as of 2007.
If you don't believe me, would you trust Jessica Simpson, Eva Longoria, Britney Spears? These are the shoes the stars wear. Exclusive styles have even been given to Oscar Nominees since 2003. Who wouldn't want a pair (or two) now?
Havaianas even have sandals for Babies, Kids and Men. So, you can get everyone set for the summer with shoes to fit their style. They can customize their own pair or choose from Princess to Mickey and Minnie too! I believe my family has found their new summer staple.
Find them on the WWW
[Buy It]
If you just can't wait any longer, you can go personalize your flip flops today on their
website
.
[Win It]
One lucky winner will win a pair of Personalized Havaianas Flip Flops. The winner will choose the base color, strap color and one pin in each shoe. To enter, use the rafflecopter form below.
a Rafflecopter giveaway
Disclaimer: Please note that The Thought that Counts, "The Summer Fun Giveaway Event" bloggers are not responsible for sponsors that do not fulfill their prizes. We have represented each sponsor with the expectation they will fulfill their prize and in a timely manner. We will contact the sponsor regarding your prize(s). The sponsors, in most cases, are shipping their items to you directly. We will make every effort to assist you obtaining your prize. If there is an issue with a sponsor, please notify the blog you won a prize from within 4-6 weeks for assistance, after that we may be unable to assist you.